Andrew Dennington presented on the panel "When are Law Firm Communications Discoverable? Intra-Firm Privilege Five Years Later" as part of the Professional Liability Defense Federation annual meeting. The presentation provided an overview of recent changes in case law over the last five years revolving around a client's discovery of internal firm communications pertaining to possible malpractice. Click here to view the slides from the presentation.
Additionally, Erin Higgins provided opening remarks for the conference as president of the Professional Liability Defense Federation.
The annual meeting took place from October 3 to October 5, 2018, in New Orleans, Louisiana. A copy of the annual meeting brochure is available here. Attendees participated in discussions of developments in legal, medical, construction design, insurance producer, accounting, directors and officers, and real estate professional negligence claims. To learn more about the Professional Liability Defense (PLDF) and the annual meeting, visit the PDLF website.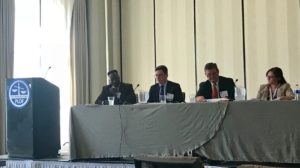 Share with your network: